ABOUT US
Bindl Sales and Service has been supplying area farmers with the equipment they need for 50 years. Bindl Sales and Service started in 1962 by Ralph Bindl. He started by putting in the first Barn-O-Matic barn cleaner, which led to silo unloader and feeding systems.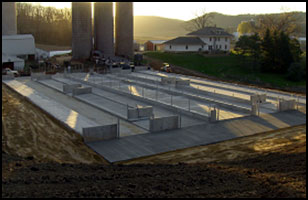 In 1989, Bindl's started their new concrete division. There first project was a free stall barn; one of the first of it's kind in the area. Today, Gary and Andrew are of the leading edge of concrete design that has sprawled above and beyond just agriculture concrete design. Today, the Bindl Concrete Crew tackles large commercial foundations and mega free stall barns to stamped concrete patios and driveways.
Bindl Sales can be depended upon for quality and service in various lines. They are well qualified to advise you in the type of equipment and construction that best suits your needs.
For your needs give Ron, Gary, or Andrew Bindl a call at 608-524-6339.